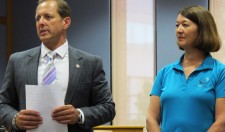 Niagara Falls Mayor and City Council applaud youth for their drug-free advocacy.
Niagara Falls, Canada, June 20, 2017 (Newswire.com) - The Niagara Region Chapter of the Foundation for a Drug-Free World mobilized to help the youth of the area in light of these troubling statistics:
Binge drinking by Niagara Falls youth in grades 9 to 12 is higher than the provincial average.
Some 21 percent of these students are using prescription drugs to get high. These include opioid pain relievers, antidepressants, and stimulants.
Over 25 percent of Niagara students grade 10 to 12 have used cannabis in the past year.
Drug-Free World reaches out to educate youth on the truth about drugs before they begin to experiment with these dangerous substances. By understanding what drugs are and what they do, young people can make informed decisions not to take illicit drugs.
One way the Niagara team forwards this campaign is through an essay and poster contest on the theme, "Why I Want a Drug-Free Community." Niagara Falls City Councillors Kim Craitor and Joyce Morrocco helped choose the winners and presented them with the contest prizes, which were donated by local businesses and Drug-Free World supporters. The awards presentation took place June 13 in Niagara Falls Council Chambers.
"We like to empower youth with the truth, the facts about drugs, and encourage them to be drug-free," said Niagara Region Drug-Free World Director Gwen Van Kleef. "Our Niagara Region Chapter is proud to provide educational lectures and resources such as the Truth About Drugs booklets because we know that effective drug education is an investment in the well-being of children and youth, their families and their communities."
The Foundation for a Drug-Free World is a non-profit, public benefit corporation that empowers youth and adults with factual information about drugs so they can make informed decisions to be drug-free. From its headquarters in Los Angeles, California, the Foundation provides educational materials, advice, and coordination for its international drug prevention network. It works with youth, parents, educators, volunteer organizations and government agencies — anyone with an interest in helping people lead lives free from drug abuse.
Source: Drugfreeworld.org
Share: