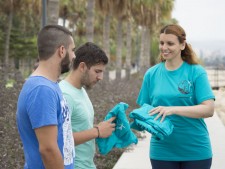 Far from being a rhetorical question, an artist and mother of two teenagers is setting her sites on a drug-free country.
LIMASSOL, Cyprus, January 16, 2018 (Newswire.com) - As her children approached their teen years, things changed for Stella Esmeralda. She realized that although Cyprus is one of the safest countries on Earth, it is not perfect.
What concerned the artist and mother from Limassol was drugs — how would her youngsters react if they ran into pro-drug peer pressure?
Two children in her neighborhood became addicted to drugs — both in the same family. Many times, she witnessed the nightmare they were going through: the fights, the screams in the middle of the night. Another child, the son of a friend, died of drug abuse at 14. Tragically, his father, a doctor, was unable to save him.
Looking for answers, Stella Esmeralda found the Foundation for a Drug-Free World and became familiar with its program. She shared the Foundation's drug education booklets and videos with her daughter and son, her nephews, and students at her music academy. She knew they understood the information and thought they would probably be fine. But what if their friends got in trouble with drugs? How would that affect their resolve?
There was another incentive to Stella Esmeralda adopting the Foundation's Truth About Drugs program: With one of the lowest crime rates in the world, what better place to begin creating a Drug-Free World than by starting with a Drug-Free Cyprus.
Stella Esmeralda ordered sets of booklets and videos from the Foundation for a Drug-Free World and set about teaching others the truth about drugs on three national TV shows. She aired the Foundation's Truth About Drugs public service announcements on the Sigma TV "Protoselido" morning show reaching more than 800,000 people — 40 to 45 percent of the population of the island.
Through seminars and events, she educated more than 1,000 people on the Truth About Drugs curriculum. And she enlisted volunteers to help her distribute over 9,000 booklets that tell the truth about drugs. She also introduced the program to members of parliament, the Minister of Education, the Director of Secondary Education, the Minister of Defense, the Chief of Cyprus Police, other politicians and actors and producers of her country.
Stella Esmeralda also used her talents as a performer — she is a singer, actress and dancer — to put across her drug-free message through a concert hosted by the anti-Narcotics council.
"To me, Cyprus is the perfect place to live," she says. "I not only wanted to ensure my children and their friends make the right choices in their lives, I wanted to give back to the island that has provided such a wonderful home for my family."
Since she began her campaign in 2015 to reach her fellow Cypriots with the truth about drugs, drug cases have declined 12.4 percent on the island; cannabis arrests by 13.2 percent, cocaine arrests by 23 percent and heroin arrests by 30 percent.
As to what's next, her success has only strengthened her decision to make Cyprus 100 percent drug-free.
For more information, visit the Drug-Free World website.
Source: Drugfreeworld.org
Share: