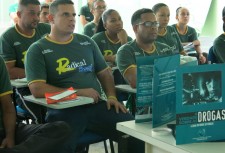 While the Olympics have drawn world attention to Brazil, there are many who are playing a different game—a dead-end game of crack addiction in the slums of the city. The Foundation for a Drug-Free World is working with hundreds of volunteers from local churches and nonprofits to reverse the country's deadly crack epidemic.
Rio de Janeiro, Brazil, August 9, 2016 (Newswire.com) - A grassroots movement has sprung up in Rio. It is comprised of church groups and other nonprofits who are partnering with the Los Angeles-based Foundation for a Drug-Free World.
In addition to handing out copies of the booklets to those attending the Rio Olympics, the Foundation has launched a drug prevention campaign in the city's favelas—the shanty towns that dot the Rio landscape.
Drug trafficking and drug addiction are rife in the marginalized neighborhoods of Brazil, the country that rivals the United States for its consumption of crack cocaine.
Local churches, committed to ending the crack epidemic, have brought the campaign to their parishioners and hundreds have volunteered not only to work at the Drug-Free World booths in the city's Live Sites where fans watch the Olympics and entertainment on jumbo screens, but also to bring the message to youth of the favelas.
These volunteers share the common purpose of reaching youngsters before the pushers do.
The Foundation for a Drug-Free World is a nonprofit public benefit corporation that empowers youth and adults with factual information about drugs so they can make informed decisions to live drug-free.
Drug-Free World partners with civic and nongovernmental organizations including more than 1,200 police departments in the United States. Through its worldwide network of volunteers and partnerships, it has distributed 6.7 million copies of The Truth About Drugs booklets over the past year—more than 79 million copies since the booklets were first published in 2006.
Source: Foundation for a Drug-Free World
Share: