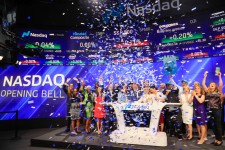 Drug education and prevention were front and center Sept. 15 when the Foundation for a Drug-Free World was featured in the NASDAQ opening ceremony.
NEW YORK, September 18, 2017 (Newswire.com) - In honor of National Recovery Month, NASDAQ selected Foundation for a Drug-Free World to ring the bell, signaling the opening of the stock market Sept. 15, 2017.
A leading voice in global drug education and prevention, the Foundation for a Drug-Free World has particular relevance today.
According to the Financial Times, from 1999 to 2015, more than 183,000 Americans died of opioid overdose and U.S. Centers for Disease Control and Prevention (CDC) reports the number of annual fatalities has quadrupled over the same period with an estimated 2.6 million people now addicted to drugs derived from the opium poppy.
Representing the California-based Foundation were Founder and President of the New York chapter, Foundation for a Drug-Free World of the Americas, Dr. Bernard Fialkoff, and Executive Director Meghan Fialkoff.
"We have provided well over a thousand free drug education events to New York City schools, after-school programs, religious centers and nonprofit organizations," says Ms. Fialkoff. "What we're really trying to do is give kids the message of how they can be successful, how they can achieve their dreams and goals without turning to drugs."
Attending the bell-ringing ceremony were Foundation for a Drug-Free World volunteers and supporters, including TV and radio host Kerri Kasem, Miss New York 2015 Jamie Lynn Macchia, musician Rappn Tate Da Great, Rabbi Levy Abdurakhmanov, Miss Africa USA Cultural Ambassador 2015-2016 Noella Nsamwa, and drug education presenter Darla DeLeon of Steered Straight, a drug prevention organization that works in collaboration with the Foundation for a Drug-Free World.
Among the government officials who have recognized the Americas chapter for its contributions to the Greater New York area are U.S. Senators Chuck Schumer and Kirsten Gillibrand, Congresswoman Grace Meng, New York City Comptroller Scott Stringer, Manhattan Borough President Gale Brewer and New York City Public Advocate Leticia James.
The bell ringing ceremony appeared on Bloomberg News, CNBC, Fox, and BNN and Foundation for a Drug-Free World drug prevention public service announcements played on the NASDAQ Times Square electronic billboard for an hour the same morning.
Source: Foundation for a Drug-Free World
Share: