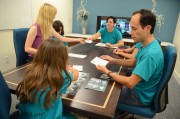 With drug abuse at crisis level in the Tampa Bay Area, the Foundation for a Drug-Free World trains community leaders to reach kids with effective drug education before they begin to experiment with dangerous drugs.
Clearwater, FL, April 6, 2016 (Newswire.com) - ​In the eight months since opening, the Foundation for a Drug-Free World Center in Clearwater, Florida, has become a resource for the entire community—a headquarters for drug prevention in the Tampa Bay area.
Using The Truth About Drugs curriculum, volunteers train community leaders to provide drug education to youth throughout the region. Whether carried out in schools, community centers, or at local events, the keynote of The Truth About Drugs is fact-based education.
Experience and surveys show that teens and young adults are most likely to listen to their peers. Thus young people—some of whom have gone down the path of addiction and survived to tell the story—are featured in the booklets, public service announcements and award-winning The Truth About Drugs—Real People, Real Stories documentary film.
The Foundation for a Drug-Free World Clearwater Center opened July 11, one six new facilities, each dedicated to helping with pressing issues that impact Clearwater and the Greater Tampa Bay area.
With its public information center, conference room and seminar rooms, the center welcomes anyone wishing to learn about the effects of commonly abused drugs as well as those seeking to help provide effective drug education to young people.
Share: