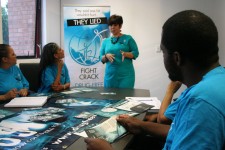 Carmen Margro, once an addict, now heads Foundation for a Drug-Free World South Africa. She says saving lives with the Truth About Drugs is "the best high" she's ever had.
JOHANNESBERG, South Africa, October 8, 2017 (Newswire.com) - When South African Carmen Margro found the Truth About Drugs online, her first thought was "We could be saving so many lives."
CEO and founder of HOPE Online Forum for Abused Women and Children, Margro worked daily with victims of drug-related violence in South Africa, a country where drug consumption is twice the world norm.
But Margro had a personal stake in the fight too as a former crack addict. "If I'd known the truth about drugs back then and educated myself, I would not have touched a single drug," she says. "That's why I believe that there is still hope and that I have been given a second chance at life."
Seizing that second chance, Margro got to work. She began by overseeing the distribution of 2,000 booklets at a major political rally. Next, to create what she calls a ripple effect, she organized the training of 60 hand-picked community leaders in Gauteng Province, empowering those already actively addressing social ills with effective tools.
Margro then formed her own Drug-Free World group and held a launch event attended by more than 5,000, which in turn created an avalanche of interest with more than 500 requests for seminars in schools, churches, and other community venues. "We have created a monster," she says.
While her team fulfilled those requests, delivering Truth About Drugs training, venue after venue, it simultaneously targeted Eldorado Park, a neighborhood where an estimated 72 percent of the population age 6 to 60 use drugs. Through door-to-door distribution, Margro's team reached 42 percent of Eldorado Park's households, and the neighborhood reported a 30 percent drop in DUIs.
Margro, who went on to become the director of Foundation for a Drug-Free World South Africa, soon created 24 chapters throughout the country, and received provincial and then national government backing to bring the program to schools across the country.
"So the message for addicts out there is — look at me today," she says. "It's about saving lives. And it's the best high that I've ever had."
Source: Foundation For a Drug Free World
Share: