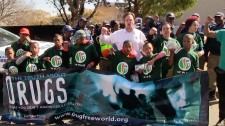 Sophiatown, South Africa, July 28, 2016 (Newswire.com) - Sophiatown was a cultural hub of the black community during Apartheid South Africa until it was razed and all its residents relocated in February 1955. The town has never recovered the spirit and optimism it once had. And sixty years later it is plagued with crime and rampant drug abuse.
Now a group of volunteers from the South Africa chapter of the Foundation for a Drug-Free World have launched a campaign to bring Sophiatown back to life. They are working to restore its pride by addressing the primary source of the town's degradation—drugs.
Foundation for a Drug-Free World volunteers marched from Bosmont to the Sophiatown Police station, handing out copies of The Truth About Drugs booklets all along the way.
These volunteers are committed to reaching youth before the dealers do, helping them make the informed and self-determined decision to live drug-free.
According to the United Nations Office on Drugs and Crime, for every dollar spent on prevention, at least ten can be saved in future health, social and crime costs.
Drug-Free World Africa offers free training to any groups wishing to provide drug education in their community.
The Foundation for a Drug-Free World is a nonprofit public benefit corporation that empowers youth and adults with factual information about drugs so they can make informed decisions to live drug-free.
Drug-Free World partners with civic and nongovernmental organizations including more than 1,200 police departments in the United States. Through its worldwide network of volunteers and partnerships, it has distributed 6.7 million copies of The Truth About Drugs booklets over the past year— more than 79 million copies since the booklets were first published in 2006.
Source: Foundation for a Drug-Free World
Share: