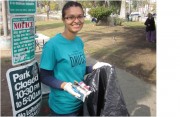 L.A. Chapter of Drug-Free World Fights Back Against Escalating Drug Use and Crime
Los Angeles, CA, February 16, 2016 (Newswire.com) - The L.A. chapter of the Foundation for a Drug-Free World is taking a stand against escalating drug use and crime. Members of the LAPD contacted the L.A. chapter to ask for help in the MacArthur Park area as the increase in crime and drug use has gone unchecked for the past four years.
People who dared to visit the park would regularly have to dodge drug dealers, users and drug paraphernalia including the syringes and prescription bottles littering the ground.
Drug-Free World chapter volunteers began making regular visits to the park with a two-pronged handling:
· Instill a sense of local pride by spearheading a park clean-up project, cleaning up trash and drug paraphernalia and making the area safer for kids and families.
· Reach out with The Truth About Drugs booklets, educating residents and park visitors with factual information about what illicit drugs are and what they do.
Over 3,300 copies of the booklet were distributed within the first two months of the program.
Police and local residents noticed a change. Almost immediately, there were fewer drug dealers in the park. And at the same time, more residents and families began using the park again for their own recreation and enjoyment.
The Foundation for a Drug-Free World is a nonprofit public benefit corporation that empowers youth and adults with factual information about drugs so they can make informed decisions and live drug-free.​
Share: