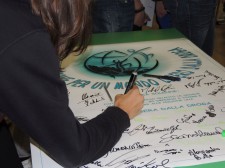 Volunteers from Cagliari are spearheading a movement to eliminate drug abuse in southeastern Sardinia.
Sardinia, Italy, April 15, 2016 (Newswire.com) - The Sardinia chapter of the Foundation for a Drug-Free World carry out a relentless campaign to combat drug abuse and addiction. Their purpose is to help youth decide to live drug-free by presenting them factual information on the devastating effects of these substances.
They routinely hold drug prevention activities in 11 municipalities throughout southeastern Sardinia. A dozen volunteers staged 16 events over the last four weeks, reaching more than 5,000 people with The Truth About Drugs booklets. And although it is hard to assess the results, there were fewer arrests in the areas where they held their activities—a strange coincidence perhaps but their work to increase awareness on this critical subject may have been a factor.
One of the volunteers stated what drives them is the wish to help youth live up to their potential, free from the debilitating consequences of drug abuse. They find that simply sharing their drug prevention materials gives the community renewed confidence that things can change. If everyone were to become involved, not only could the problems connected to drug abuse be resolved, it would also reduce crime, accidents, and many other serious social ramifications.
Volunteers on six continents work in their communities throughout the year to empower others with the truth about drugs.
Source: Foundation for a Drug-Free World
Share: