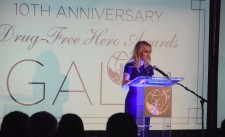 Dozens of humanitarians were honored as Drug-Free Heroes at the 10th Annual Foundation for a Drug-Free World gala
Great Neck, New York, July 12, 2017 (Newswire.com) - With more than 1,000 overdose deaths in New York State last year, the Foundation for a Drug-Free World, the Americas Chapter, honored those who are tackling this issue. Thirty-three men and women were presented with Drug-Free Hero Awards at the group's 10th annual gala at Leonard's Palazzo in Great Neck.
Speakers included New York State Senator Tony Avella of Queens; James J. Hunt, special agent in charge of the U.S. Drug Enforcement Administration, New York Division; and Kyle McCauley Belokopitsy, executive director of the New York State Parent Teacher Association.
Drug-Free Hero Awards were presented to:
Officials and Dignitaries
    New York State Senator Andrew J. Lanza
    Robert Barnes of the office of Bronx District Attorney Darcel D. Clark
    Former Congressional candidate for New York's 14th district Frank J. Spotorno
    Ambassador Carlos Garcia, Secretary General of the United Nations Association of El Salvador
    Foday Mansaray, Special Diplomatic Adviser, U.S. African Cooperation, Office of the World Chairman, International Human Rights Commission
Nonprofits and NGOs
   Antonio Hendrickson of Lead by Example/Reverse the Trend 
   Michael Reagan DeLeon of Steered Straight, Inc.
   Noella Nsamwa, president of Karibu-Global Initiatives
Law Enforcement
  L. Kelly Johnson, School Safety Division, Community Affairs Bureau, NYPD
  Detective Melissa Jones, Chief of Transportation Bureau, NYPD
  Police Officer Kimberleigh A. Radigan, Southampton Village
  Police Officer Charles Sadler, NYPD Community Affairs, 104th precinct
  Police Officer Tatiana S. Espinal, NYPD Neighborhood Coordination
  Police Officer Andres F. Gomez, NYPD Neighborhood Coordination
  Mohammad Akram, platoon commander, NYPD
Artists and Celebrities
  Camille Sims, Miss New York 2016
  Ted McGrath, Chief Transformation Officer, Ted McGrath Brands
   Ricky Byrd, 2015 Rock & Roll Hall of Fame inductee
   Recovery Troubadour
Also awarded were Latin American drug-free crusaders: Colonel Hugo Angulo Rogel of El Salvador and Ana Mercedes Acosta, Ramón Gross, Franklin Valois Reyes, and Mariela Valois of the Centro de Formation y Superacion Humana, Inc. 
Foundation for a Drug-Free World, the Americas Chapter President Dr. Bernard Fialkoff and Executive Director Meghan Fialkoff emceed the program. Since 2006, the chapter has been spearheading events across the five New York City boroughs and in Latin America to raise awareness of the dangers of drugs, reaching more than 100,000 children and adults.  
"With the horrors of drug abuse ever encroaching on New Yorkers everywhere, it is urgent that each of us take responsibility and maintain vigilance," said Meghan Fialkoff. "We are happy to take a moment to pay tribute to the tireless, everyday heroes who work daily to create a drug-free New York City and a drug-free world."
Proceeds of the gala benefited the program's Adopt-a-School campaign, which provides free drug education events and programs city- and statewide.
The Foundation for a Drug-Free World, www.drugfreeworld.org, is a nonprofit public benefit corporation that empowers youth and adults with factual information about drugs so they can make informed decisions to live drug-free. Internationally, the group has distributed 80 million drug prevention booklets and produced thousands of drug awareness events in 180 countries. 
For more information visit www.drugfreeworldamericas.org.  
Source: Drugfreeworld.org
Share: